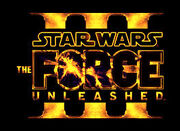 Star Wars: The Force Unleashed III is the non released and last game in the series. Sam Witwer and Haden Blackman spoke about it in a February 2013 interview, saying that it would be an interesting project for next generation consoles (PS4, Xbox One, Wii U).
In a November 2015 interview with Cinelinx, former LucasArts creative director, Haden Blackman, revealed the game would have been more open-world and see Starkiller and Vader team-up to fight a new threat from the Emperor.
References
Edit
Ad blocker interference detected!
Wikia is a free-to-use site that makes money from advertising. We have a modified experience for viewers using ad blockers

Wikia is not accessible if you've made further modifications. Remove the custom ad blocker rule(s) and the page will load as expected.